Congratulations! Prof. Ming-An Chung guided the undergraduate students to participate in the "18th National Electronic Design Creative Competition" and won the "Second Place" and two "Excellent Works" three awards.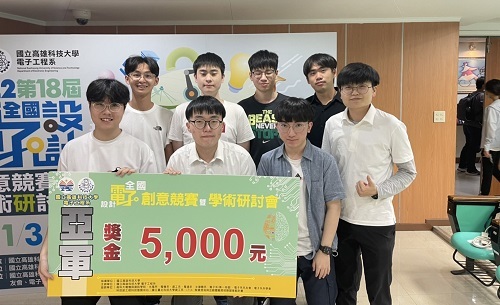 Prof. Ming-An Chung of the Department of Electronic Engineering of the University directed the development of eight students, including Sung-Yun, Chai and Chia-Chun, Hsu and Bo-En, Chen and Kai-Shawn, Chen and Jun-Hao, Zhang and Chih-Hsin, Lin and Wei-Yuan, Chen and Yang-Cheng, Lu and other students" Human 3D skeleton posture analysis to prevent the elderly from falling long-term care system", "intelligent fracture dressing," "visual impairment guidance machine," recently participated in the "18th National Electronic Design Creativity Competition" organized by the National Kaohsiung University of Science and Technology, stood out from 116 teams, won the "second place" and two "masterpieces" three good results.

In response to the aging trend of the social population, environmental sustainability, energy conservation, and carbon reduction, the National Taipei University of Technology actively cooperates with the industry to guide students to think innovatively and actively participate in practical competitions and study activities, cultivating students to hold the innovative and creative spirit and multi-faceted product architecture thinking to carry out a number of research and physical application development and implement the social responsibility of the university.

Prof. Ming-An, Chung is committed to cultivating students to establish scientific and technological research and development framework thinking, breaking through the traditional thinking framework to lead students to learn and grow, not only to stimulate students' enthusiasm for learning but also to establish students' sense of teamwork and innovation and entrepreneurship, shape students' good character, stimulate students' potential, cultivate a new generation of medical electronics and intelligent care innovation talents, create a friendly smart care environment in Taiwan, and jointly shape the blueprint for the development of smart health care in Taiwan.